Motorola G30 GSM/GPRS wireless module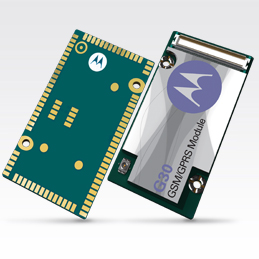 The G30 GSM/GPRS Series features small dimensions and a cost-effective design, making it an ideal choice for AMR, telematics, security, and ePOS. The G30 Series is offered in three tiers, each supporting a Land Grid Array (LGA) form factor or optional 70-pin B2B Connector, for virtually unlimited M2M design possibilities. The G30basic includes a rich set of features like quadband GSM, an extended temperature range, jamming detection, FOTA and embedded data protocols. The G30advanced provides full-duplex audio and Embedded SIM technology to the already feature-rich G30basic. The G30premium features an embedded application space for easy M2M development, eliminating the need for an external CPU.
Features:
Compact LGA Package -Land grid array (LGA) form factor, featuring surface mount technology (SMT) enables small dimensions and cost effective design.
M2M Programming Platform - On-board software layer, allowing custom applications written in C language to interface with module's hardware resources.
Multiplexing Support - The G30 features multiplexing (MUX 27.010) over the UART RS232 connection, for multiple simultaneous sessions, enabling more efficient data processing.
FOTA - Firmware upgrade over-the-air (FOTA) allows the module's firmware to be remotely updated thus eliminating the need for manual field updates.
Internal TCP/IP - An industry-standard, nonproprietary set of communications protocols that provide reliable end-to-end connections between applications over interconnected networks of different types.
FTP - An application protocol used for transferring files to and from host computers.
Voice features - Telephony, digital audio, differential analog audio lines, vocoders EFR/HR/FR/AMR, DMTF support, echo and noise suppression, and side tone.
Fully type approved - Regulatory and approval of the FCC, ICC, PTCRB, R&TTE, GCF, EMC, and RoHS/WEEE.
Software
Auron SMS Server is a Windows-based software package that enables you to send, receive and process SMS and e-mail messages. Supported communication protocols: GSM, HTTP, SMPP, SMTP, POP3. Incoming messages are processed by 'triggers', and can be fully customized.
It's a framework for any scenario where one/two-way SMS is required. Create a voting/polling system, send out mass SMS broadcasts, create a reservation system, etc.. Real-life case-studies are included as sample projects.