Cinterion XT65 and XT75 Quad-Band GSM EDGE GPRS Class 12 wireless module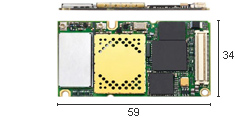 Introduction
With the XT-family, M2M developers can implement tracking functions and the associated options more simply and economically than ever. The logical linking of GPS and GSM technology optimises the combination of these two technologies. Moreover, complex M2M applications can be developed on the powerful Java™ platform within very short development times and for the lowest possible cost in the areas of vehicle tracking, personal emergency call systems, fleet management solutions and navigation systems. Thanks to Quad-Band, the module can send position data from any place around the world. Moreover, the XT75 features EDGE technology to achive highest data rates.
Supports:
State-of-the-art GPS receiver (16 channels)
Quad-Band GSM (850/900/1800/1900 MHz)
EDGE (E-GPRS) multi-slot class 10 (XT75)
GPRS multi-slot class 12
JavaTM IMP-NG
Integrated TCP/IP stack
RIL driver for Microsoft© Windows MobileTM based devices
RLS Monitoring for Jamming detection
Software
Auron SMS Server is a Windows-based software package that enables you to send, receive and process SMS and e-mail messages. Supported communication protocols: GSM, HTTP, SMPP, SMTP, POP3. Incoming messages are processed by 'triggers', and can be fully customized.
It's a framework for any scenario where one/two-way SMS is required. Create a voting/polling system, send out mass SMS broadcasts, create a reservation system, etc.. Real-life case-studies are included as sample projects.