Cinterion AC65 and AC75 Wireless Modules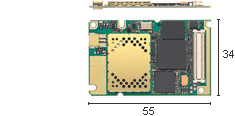 Introduction
Quadband, EDGE, Java™ and compliance with all of the relevant quality standards used in the automotive sector make the AC75 from Cinterion Wireless Modules the best-equipped hardware and software platform around for wireless applications in environments as demanding as the car manufacturing industry. Thanks to its state-of-the art communications technology, the AC75 can be utilized anywhere in the world, it provides the highest data transfer rates possible, and has clear time-saving and cost-saving benefits for manufacturers with respect to product development. The AC75 is predestined for applications deployed in tough environments demanding special qualities. It meets all the requirements of the automotive sector regarding quality, such as the ISO TS 16949 standard for development and production and the VDA standard for voice transmission. It also works errorfree over an extended temperature range, offers antenna diagnostics, and features a SIM access profile (SAP) and a Rosenberger antenna connector. In addition to this, our customers can count on getting expert support based on our team's in-depth and long-term experience of working in the automotive sector. Worldwide applicability, top quality standards, intelligent and resource-saving development — the AC75 is the first rugged module to integrate all these features on one and the same board. This is what makes it the perfect basis for modern applications, such as e-call and Toll Collect, security tracking, fleet management, multimedia systems, and machine-to-machine applications that need to be especially robust. The AC75 has received full type approval (FTA), including approvals from U.S. mobile operators and the E-mark, with all the necessary certification as part of the package. What's more, as the module is lead-free, it complies with the European directive on the restriction of the use of certain hazardous substances in electrical and electronic devices (RoHS).
Software
Auron SMS Server is a Windows-based software package that enables you to send, receive and process SMS and e-mail messages. Supported communication protocols: GSM, HTTP, SMPP, SMTP, POP3. Incoming messages are processed by 'triggers', and can be fully customized.
It's a framework for any scenario where one/two-way SMS is required. Create a voting/polling system, send out mass SMS broadcasts, create a reservation system, etc.. Real-life case-studies are included as sample projects.