Sierra Wireless Airlink Raven XE 3G/HSUPA Cellular Router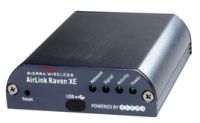 Supplied with AC Power Supply (UK plug). Ethernet, USB and I/O.
The Sierra Wireless AirLink Raven XE is a compact, robust Ethernet Gateway, that delivers the highest wide area wireless speeds available. The Raven XE is equipped with a robust ARM9 processor and embedded with ALEOS™ technology to optimize performance on today's high speed 3G data networks. The& 10/100 Ethernet interface and 3G-optimized architecture make the Raven XE ideal for various commercial mobile or portable network connectivity applications. Affordability and ease of use, will enable the Raven XE to be deployed in many commercial applications, such as Retail/POS, ATMs, and wireless internet connectivity.
Embedded machine protocols, and an aluminum enclosure make it equally suited for remote industrial and M2M deployments. The Raven XE features a sleek, compact form factor, increasing its versatility and ability to be integrated within existing infrastructure and enclosures.
Finally, the Raven XE is equipped with IPSec VPN and an easy to use interface to ensure your data is safe from unauthorized access.
Software
Auron SMS Server is a Windows-based software package that enables you to send, receive and process SMS and e-mail messages. Supported communication protocols: GSM, HTTP, SMPP, SMTP, POP3. Incoming messages are processed by 'triggers', and can be fully customized.
It's a framework for any scenario where one/two-way SMS is required. Create a voting/polling system, send out mass SMS broadcasts, create a reservation system, etc.. Real-life case-studies are included as sample projects.