Sierra Wireless Airlink Pinpoint X, 3G/HSUPA Cellular Router with GPS.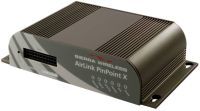 Supplied with DC lead for connection to 12 or 24 volts DC. Serial, Ethernet and USB
The PinPoint X is a compact, intelligent and fully-featured mobile communications platform with multiple peripheral connections including serial, Ethernet and USB. Expanded I/O functionality in a separate connector includes four digital inputs, four analog inputs and two relay outputs unleashing extensive remote instrumentation possibilities.
Its high-precision GPS receiver coupled with the rich embedded intelligence provided by ALEOSTM technology make PinPoint X the perfect choice for a broad set of mobile enterprise, public safety, fleet management and AVL solutions.
Now Available for HSUPA networks
The PinPoint X offers connectivity to all three HSUPA/UMTS frequency bands (850, 1900, 2100 MHz) and all four EDGE/GPRS bands (850, 900, 1800, and 1900 MHz) used in Europe and North America, allowing seamless global roaming on the best available network.
The PinPoint X offers receive diversity for improved fringe performance in HSUPA and EVDO Rev A networks.
Software
Auron SMS Server is a Windows-based software package that enables you to send, receive and process SMS and e-mail messages. Supported communication protocols: GSM, HTTP, SMPP, SMTP, POP3. Incoming messages are processed by 'triggers', and can be fully customized.
It's a framework for any scenario where one/two-way SMS is required. Create a voting/polling system, send out mass SMS broadcasts, create a reservation system, etc.. Real-life case-studies are included as sample projects.