Sierra Wireless USB 308 and USB 309 modem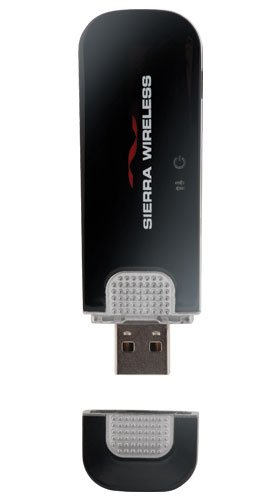 Experience blistering fast download speeds with the new Sierra Wireless USB 308 and USB 309 modems, Sierra Wireless' next generation of HSPA+ USB modems. The USB 308 and USB 309 modems are designed for HSPA+ networks, providing access to top speeds up to 21 Mbps download and up to 5.76 Mbps upload – the fastest speeds available in the world today. Sierra Wireless USB 308 and USB 309 owners will have the freedom to roam globally on HSPA networks and remain in touch wherever travels take you.
The USB 308 is designed for bands which are typical of North American and Asia Pacific regions, whereas the USB 309 is optimized for bands often deployed throughout Europe. Please check with your local Sierra Wireless representative to determine which one is right for you.
USB 308: 850, 1900, 2100 MHz
Quad Band GSM/GPRS/EDGE: 850/900/1800/1900MHz
USB 309: 900, 2100 MHz
Quad-Band GSM/GPRS/EDGE: 850/900/1800/1900Mhz
Key features
Access to the fastest wireless download speeds available, with up to 21 Mbps downlink and up to 5.76 Mbps uplink
New industrial design and performance improvements
Global roaming capabilities
microSD™ slot
TRU-Install™, automatic software installation
Key benefits
Keep in touch with work, family, and friends wherever you go, even from the taxi on the way to the airport
Faster install of Sierra Wireless Watcher™ connection manager and faster browsing
Global high speed wireless connectivity in more places than Wi-Fi, offering more travel options
Offering easy storage and transfer of large files, photos, music and more
Get up and running faster, no CD required
Software
Auron SMS Server is a Windows-based software package that enables you to send, receive and process SMS and e-mail messages. Supported communication protocols: GSM, HTTP, SMPP, SMTP, POP3. Incoming messages are processed by 'triggers', and can be fully customized.
It's a framework for any scenario where one/two-way SMS is required. Create a voting/polling system, send out mass SMS broadcasts, create a reservation system, etc.. Real-life case-studies are included as sample projects.