NexWireless TMF622 HSDPA HSUPA USB Modem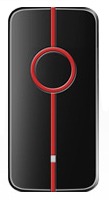 Use the HSDPA/HSUPA USB Modem and get fast, reliable, wireless connectivity to the Internet, e-mail, corporate applications and send and receive voice calls. The unique product design fits into the USB slot on a laptop or handheld device and offers mobile users maximum coverage and access to complete 3.5G networks, including existing UMTS/EDGE/GPRS/GSM networks.
Key Features:
HSDPA/UMTS/EDGE/GPRS/GSM 3.5G USB modem
Simple installation and ease of use to users, Zero-CD
Backward compatible to UMTS,EDGE,GPRS and GSM circuit switched data
Global roaming on HSDPA,UMTS,EDGE, and GSM/GPRS networks
Support HSDPA/UMTS 800/1900/2100,EDGE/GPRS/GSM 850/900/1800/1900 MHz
Provide multi-function - data, voice and SMS capabilities
Provide High-speed data (up to 7.2Mbps) connectivity to mobile users.
Support Operating Systems: Windows 2000/XP,Vista
Software
Auron SMS Server is a Windows-based software package that enables you to send, receive and process SMS and e-mail messages. Supported communication protocols: GSM, HTTP, SMPP, SMTP, POP3. Incoming messages are processed by 'triggers', and can be fully customized.
It's a framework for any scenario where one/two-way SMS is required. Create a voting/polling system, send out mass SMS broadcasts, create a reservation system, etc.. Real-life case-studies are included as sample projects.