Multi-Tech MMCModem GPRS
Introduction
The Multi-Tech MMCModem GPRS wireless modems offer standards-based GSM/GPRS Class 10 performance. Packaged in a compact, rugged industrial chassis, these quick-to-market modules allow developers to add wireless communication to products with a minimum of development time and expense. These modules are based on industry-standard open interfaces and can be board-to-board or board-to-cable mounted.
The Multi-Tech MMCModem GPRS wireless modem is fully supported by the Auron SMS Component software.

Download Download Now &nbsp (or click here to visit the Auron Software web site)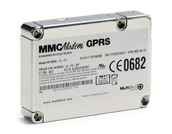 The MMCModem GPRS Developer's Kit allows you to plug in the communications device and use it for testing, programming and evaluation. The kit includes one development board with RS-232 DB-25 connector, universal power supply, antenna and RS-232 cable. Call your local Multi-Tech distributor or sales representative for complete details.
Family Features
GPRS Class 10
Quad-band GSM 850/900/1800/1900 MHz
AT command compatible
Short Message Services (SMS)
Packet data up to 85.6K bps
Board-to-board or board-to-cable mounting
Embedded TCP/IP stack
MNP 2 error correction, V.42bis compression
MMCX antenna connector and SIM socket
Software
Auron SMS Server is a Windows-based software package that enables you to send, receive and process SMS and e-mail messages. Supported communication protocols: GSM, HTTP, SMPP, SMTP, POP3. Incoming messages are processed by 'triggers', and can be fully customized.
It's a framework for any scenario where one/two-way SMS is required. Create a voting/polling system, send out mass SMS broadcasts, create a reservation system, etc.. Real-life case-studies are included as sample projects.