Falcom Samba3G - UMTS/HSDPA Quad Band Modem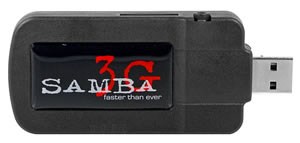 UMTS/HSDPA with up to 7,2 Mbps
Quad Band GSM/GPRS/EDGE engine
Data, Fax, SMS, MMS, Voice
Audio interface
Integrated SIM interface
GSM antenna included
Plug-n-Play
USB connector
Very lightweight
World-wide applicable
The Falcom Samba3G is a Plug-and-Play, compact, lightweight, wireless modem that provides UMTS/HSDPA, EDGE, GPRS and GSM connectivity for portable, handheld computers and others. The major benefit over earlier SAMBA GSM/GPRS modem is that SAMBA3G supports the latest radio standard UMTS/HSDPA.
Samba3G allows subscribers to send and receive data, including digital images, web pages and photographs, with a transfer rate up to 7,2 Mbps. It supports MMS, SMS, fax and E-mail as well. It can be easily controlled by using AT commands for all kinds of operations.
The Samba3G is designed for use on any GSM network in the world.
Facts
General
GSM 900 MHz, DCS 1800 MHz
Compliant to GSM Phase 2/2+
WCDMA 2100 MHz
Transmit power
Class 4 (2 W) at EGSM 900
Class 1 (1 W) at GSM1800
Class 3 (0.25W) at WCDMA 2100
Class E2 (0.5W) at GSM 900 (EGPRS mode)
Class E2 (0.4W) at GSM1800 (EGPRS mode)
GPRS connectivity
GPRS multi-slot class 12
GPRS mobile station class B
EDGE connectivity
EDGE multi-slot class 12
EDGE mobile station class B
DATA mode
HSDPA
Data downlink transfer: max. 7.2 Mbits
Data uplink transfer: max. 384 kbps
WCDMA
Data downlink/uplink transfer: max. 384 kbps
EDGE
downlink transfer: max. 236.8 kbps (4 x downlink)
Achieving average of 80 to 160 kbps
uplink transfer: max. 118.4 kbps (2 x uplink)
Coding scheme: MCS 1 - 9
GPRS
downlink transfer: max. 85.6 kbps
uplink transfer: max. 42.8 kbps
Modulation and Coding Scheme MCS 1 – 4
CSD
Downlink/Uplink up to 14.4 kbps
Electrical characteristics
power supply: +5 V DC (through USB port)
compliant with USB 2.0 specification
Physical characteristics
dimensions: (L x W x H) 88.7 x 37.6 x 14.1 mm
weight: 35 g
extended operation: -30 °C to -80 °C
Interfaces
USB connector
Internal SIM interface: 3 V only
Basic features
Voice and SMS, MMS compliant
Embedded TCP/IP stack with IP and UDP protocols, access via AT commands
Other features
Firmware upgrade over USB interface
Hardware requirements
a valid SIM card
free compatible USB port
appr. 50 Mb of free hard disk space
Pentium® 90 or higher with CD-ROM drive

Software requirements
OS: Windows® XP/Vista and Linux
web-browser and e-mail client
Software
Auron SMS Server is a Windows-based software package that enables you to send, receive and process SMS and e-mail messages. Supported communication protocols: GSM, HTTP, SMPP, SMTP, POP3. Incoming messages are processed by 'triggers', and can be fully customized.
It's a framework for any scenario where one/two-way SMS is required. Create a voting/polling system, send out mass SMS broadcasts, create a reservation system, etc.. Real-life case-studies are included as sample projects.