Elpro GSM GPRS modem E605-M1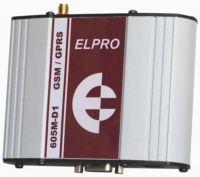 605M-D1 is a quad-band GSM/GPRS serial data modem for applications requiring industrial-strength performance and can operate in stand-alone mode, with the host device controlling dial-up communications or GPRS connections via AT commands.
When used with the 605M-R1 Router, the GPRS modem will network automatically without the need of AT control. The Router can handle communications for up to 50 605M-D1 modems. The Router keeps track of dynamic IP addresses allocated by the GPRS Service and eliminates the need to use expensive static IP allocations.
Features:
Quad-band EGSM, 2W @ 850 / 900 MHz, 1W @ 1800 / 1900 MHz
SMA female 50 ohm RF connector
Sensitivity -107 dBm @ 850 / 900 MHz, -106 dBm @ 1800 / 1900MHz
RS232 V.24 Serial, D-Type 9 pin connector, 300 to 115,200 bps, auto-rate from 2,400 to 38,400 bps
On board SIM holder, 3V with real time detection
Temperature -30 to 75 degC, Case, Heavy duty painted aluminium, DIN rail mounting
Power supply 10 - 24 VDC, Power consumption Idle 12mA, Dedicated mode 110mA, GPRS 550mA
GPRS Class 10, Mobile station class B. Coding Scheme 1 to 4. PBCCH support
Circuit switched data up to 14.4Kbps, V.110
AT-command mode and Automatic-connect mode
Embedded TCP/IP stack with access via AT commands
Configuration via Windows configuration utility
Network signal detection diagnostics
Software
Auron SMS Server is a Windows-based software package that enables you to send, receive and process SMS and e-mail messages. Supported communication protocols: GSM, HTTP, SMPP, SMTP, POP3. Incoming messages are processed by 'triggers', and can be fully customized.
It's a framework for any scenario where one/two-way SMS is required. Create a voting/polling system, send out mass SMS broadcasts, create a reservation system, etc.. Real-life case-studies are included as sample projects.