BluOcean USB GSM Modem Mini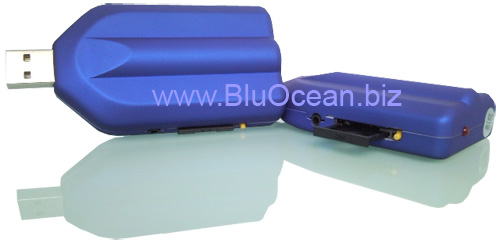 Lightest and smallest modem. Directly connects to computer. Ideal for travelers and laptop users:
SMS, Data, Fax And Voice Applications
Voiced Enabled
Windows 2000/NT/XP/Vista/Server 2003/2008, Linux(RedHat 7.3/8.0/9.0) , Mac OS X
In-built Antenna
Easy Push To Insert/Remove SIM Card
Low Power Consumption
Metallic Blue Color With Plastic Casing
Dimension: 75x45x15mm
Weight: 38g - Ultra Light!
Accessories Included:
Driver
Extended USB Cable
Ear piece (optional)
Software
Auron SMS Server is a Windows-based software package that enables you to send, receive and process SMS and e-mail messages. Supported communication protocols: GSM, HTTP, SMPP, SMTP, POP3. Incoming messages are processed by 'triggers', and can be fully customized.
It's a framework for any scenario where one/two-way SMS is required. Create a voting/polling system, send out mass SMS broadcasts, create a reservation system, etc.. Real-life case-studies are included as sample projects.